Igloo Music is a world-class sound recording complex located in Burbank. In 2013, owner Gustavo Borner hired us to build a funky cool website befitting a rock-n-roll heaven.
Igloo's talented team of engineers (all Berklee grads)  have collectively won 19 Grammys and Latin Grammys combined. Projects range from studio films to music stars like Elton John, Marilyn Manson, Santana, and Phil Collins. Films include ROBOCOP, PACIFIC RIM, 28 WEEKS LATER, SUNSHINE and many more.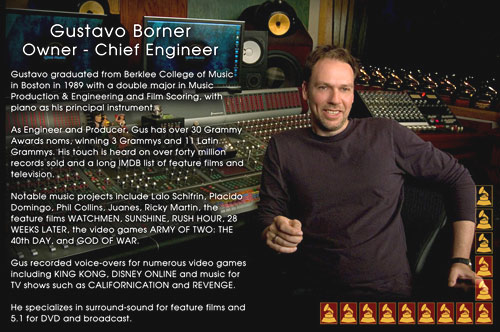 Marta's portraits of the engineers showed the team in their magic world, and I collaborated with Gus on the staff bios. Igloo's clients are sophisticated entertainment executives and creatives so there's a bit of word sculpting involved.
My only quibble is that I can't move into the Igloo and chill out for a week with my guitar plugged into nirvana.
Save
Save
Save
Save
Save
Save
Save