The future has arrived. Print publications have become online brands. Smart devices and apps make it all so cool to stay connected. Ad networks are our friends if you can survive the New Economy.
From 2009 to 2010, I was Online Director at Moving Pictures Magazine, a print and web publication. The magazine launched at Cannes in 1989 with a bold style and insiders knowledge.
 The Stories Behind The Movies
Moving Pictures featured film journalism with glossy photographs. The media team was on-location at film events and kept the news flowing during festival season. Everyone who worked at MPM shared a deep passion for films and culture. I liked the magazine's silky paper, weighted for the Malibu crowd.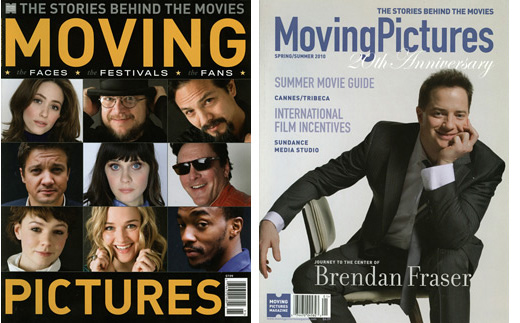 My job was to publish online news items (up to six per day) and feature articles (five per week), with graphics, slideshows and videos. There were two editors in the office, several stringers in the field and most content went online through my office.
– – – – – – – – – – – – – – –
Collaborations with the sales team led to clear presentations to the bosses. We expanded MPM's online resources for filmmakers: calendar of events, listing of US film offices and festivals' contact information.

I delivered weekly reports with Google Analytics graphs and interpreted the traffic movement through MPM's website. Knowing how the public interacts with your website shows you what works and helps shape priorities.
Moving Pictures' archive of articles provided steady traffic while hot topics gave us spikes in visits. Compelling writing and timely information are keys to growth.
Social media played a big part in increasing our visitors, but the competition is super-tough in feature films. You earn your audience every step of the way.
– – – – – – – – – – – – – – –
The next part is about selecting a publishing platform followed by the results of the media reboot. If your eyes glaze it's OK to scan.
Content Management System
When I started at Moving Pictures, the custom Content Management System (CMS) was my main tool to manage the website. The editors and writers counted on me for all formatting and layout of articles. But before I arrived, the publisher decided a new CMS would make it easier for all.
All content was being migrated to a .NetNuke (DNN) platform and the "switch will be flipped" right before the Sundance Film Festival. That "switch" had an amber light with a question mark. The as-then current website had thousands of articles with graphics, hundreds of videos, and multiple categories, so it was a lot more switches to be flipped. And nothing against DNN, but our free version was limited where we needed more control.
We sent the publisher a detailed wire-frame of the new home page showing main navigation links, and a clean layout with a streamlined hierarchy of content. We also made a content matrix in Word, simply text in tables showing what goes in each section. A budget was proposed for a CSS specialist experienced with DNN.
Time – Resources – Quality
The budget for the CSS was nixed. The DNN theme selected by the home office was cluttered with five columns. The transition was managed by one isolated programmer in Arizona, who really was too busy to talk to us. When we saw the new website in a non-public preview, we decided that our current website would remain in service throughout Sundance. The politics of that negotiation were sensitive.
As feared, the database didn't make the transition intact. It took hands-on work to sort it out. These things remind us that the triad of time, resources and quality determines the natural order of a production.
Within a couple of weeks, the content was fixed and the new website was launched without fanfare. Website traffic dropped since all the old links were invalid. Both search engines and content aggregators registered the disconnect. The question raised but not answered… There must be a way to manage those links so that the ship doesn't crash so hard? In this case, the solution wasn't a priority for the publisher.
Traffic picked up as search engines re-indexed the site. Our marketing campaigns via six of the stronger social media networks won us a growing audience. Facebook and Twitter were champs. We upgraded MPM's YouTube account, cleaned up comments and posted new videos.
When the machine gets rolling, a website is a show with a live audience whose participation is quantified and qualified with a suite of tools. But it is curious how the dashboards may show different statistics for the same time period.
Traffic, Statistics and Analysis
Even though Google's traffic report was the standard by which ads were valued, I was intrigued by the huge difference between the server-side logs (over half a million) and Google's stats (up to 40 thousand) for the same time period.
Yahoo Pipes kept showing up on server-side logs with high numbers of hits that Google totally ignored. What was that about? Could Google be hiding something or were traffic numbers being cooked by some RSS transfusion on a content network?
The questionable traffic was discounted, but I became convinced that RSS content feeds were to be a saving grace. Maybe I judged DNN too harshly on the first round.

We tapped DNN's RSS Feed to become mobile friendly with the least amount of effort.

So the plan evolved to push our feeds to content aggregators. The more outlets the better.

The patient sat up and blinked, "I am alive."
Syndication Channels
It was time to conform our RSS feed to Google's specifications to become an approved content source. There are plenty of syndication channels for a content company to access, but the process requires time and attention to details.
Next, MPM's editorial, sales and online teams refined a strategy and budget for a Moving Pictures video channel dedicated to film festivals.
I built a functioning prototype based on the video delivery system I was developing for my other clients. I created accounts at various Content Delivery Networks and uploaded videos to test the CDN tools. Ultimately I opted for GoGrid/Edgecast which I now use for my clients.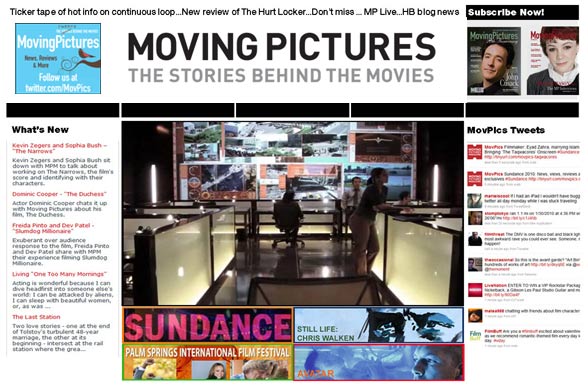 The sales team was optimistic that we would land a suitable sponsor to support our video channel. We mapped out online film communities for the presentation to the investors at ICAP Media.
The content-centric Hub and Nodes diagram helped clarify our solar system. One of our writers had a history with Rotten Tomatoes and her reviews were a top source of traffic to Moving Pictures.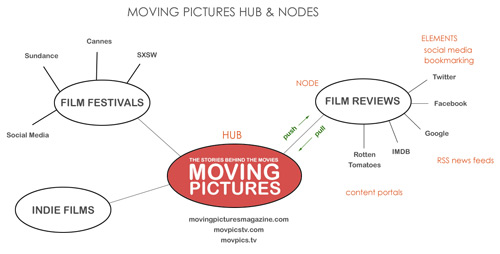 The proposal flew through the approval process and funding was forthcoming from ICAP. The speedy approval was a good sign. Even our bosses were surprised since the online division wasn't a profitable side of the business.
Then the publisher abruptly changed directions, focused on a YouTube Channel and some of us were freed to find greener pastures. The magazine ceased publication in early 2012 and the website soon followed. There are archived videos on YouTube for Moving Pictures Network, the final incarnation of the brand.
On a happy note, I recently shared wedding cake with some Moving Picture's co-workers at the Farmers Market. Nobody mentioned the demise of our once cherished magazine.
Leave a Reply
You must be logged in to post a comment.