SEARCH ENGINES & SOCIAL MEDIA
There's a saying about websites: Build it and they will come. I suggest that you do NOT base your web strategy on that statement. If you want a return on your investment, make sure that your budget for Search Engine Optimization (SEO) and ideally three to six months of a sustained marketing campaign.
The goal is to bring the audience to your website. If your website is a content portal supported by ads or sponsored, there are proven ways to reach the level of traffic expected by your clients.
In 2008, I was part of a team with ChaosMap (SEM specialists) managing online advertising and a marketing campaign for Spill.com, a youth oriented film review website. Services included Search Engine Optimization (SEO), Search Engine Marketing (SEM) and a Social Media campaign.
I was responsible for reporting the Hitbox web analytics, studying the data, suggesting strategies and managing the Social Media. Hitbox is one of several web analytics applications that provide detailed data about your web traffic. From the data, you refine your strategies. It's exciting to see the traffic grow in direct response to the team's efforts. Online advertising and marketing succeeds when the budget allows for specialists to do their job. Results are measurable, accurate and improves ROI.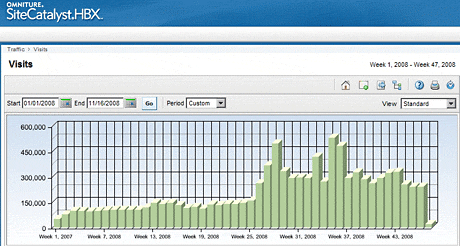 The image above shows the total visits for Jan through Oct, 2008. The graph shows the weekly rise in traffic from approximately 60,000 in week 1 to the highest spikes of about 500,000.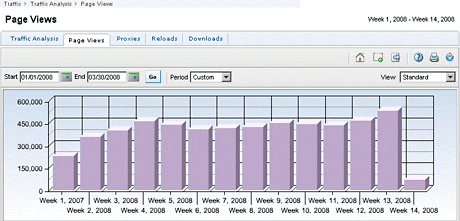 This image shows a three-month page views report. You can see the sustained growth.
Note: the last column in each image is an incomplete reading. Something like a half-day's result.
SOCIAL MEDIA
Social networks feel like nerve endings reaching into online communities. You map out a social media plan, create the proper identities (important!) on social networks and bookmarking sites, then start sending the messages out there. Post a potent bit of entertainment and the audience will show you what they like. Your web analytics tell you exactly where your audience is coming from, what pages they visit and for how long. The technology will help bring the visitors to your website, but it's up to you to keep them coming back.
CONTENT IS KING
Good content will win over your audience and keep the hits coming. The spikes in the images above are the result of successful content. The web data shown was for a New York company that was committed to sustained growth. The conference calls were lively in the way of creative producers.
It's hard to win in the content game. Often the content driven brand becomes a service provider (B2B) instead of an content destination (B2C). But then, online communities are doing fine. Yeah, a community that creates it's own content. Brilliant.
Save