Gustavo Borner, owner of Igloo Music Studios, returned in 2014 for Phase II of his website. This time we went with a Parallax Responsive theme on the popular WordPress platform. Igloo Studio's Facebook photo album feeds content to website galleries. Gus posts to FB and his WP website simultaneously. Mobile access, easy to use.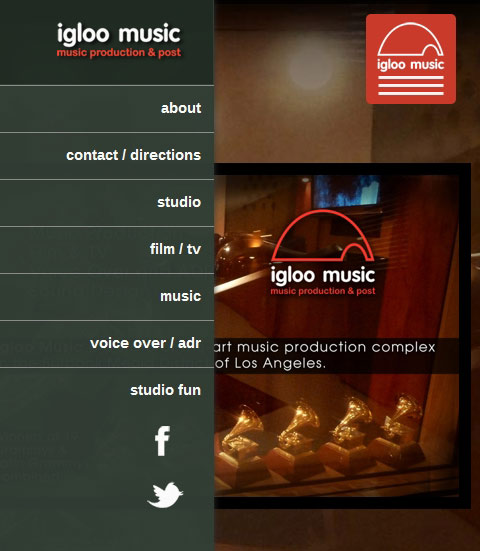 Shown above is the slider menu for mobile screens – Responsive Menu created By Peter Featherstone. I recommend this highly customizable plug-in.
Tech note: The photo album feeds from Facebook via API/jQuery, viewed in a custom Galleria Responsive JavaScript Image Gallery. I consider this feature to be one of my best products.
Go Daddy's Managed WordPress brought a welcome layer of security and great performance. It's efficient to have a development website and a public website, so I can refine open-source components before releasing to the public.
We bid farewell to our Ice design, described in a previous post. Adapting his website for multiple devices led to re-visualizing his presentation. I'm usually a minimalist but sometimes you want to turn it up.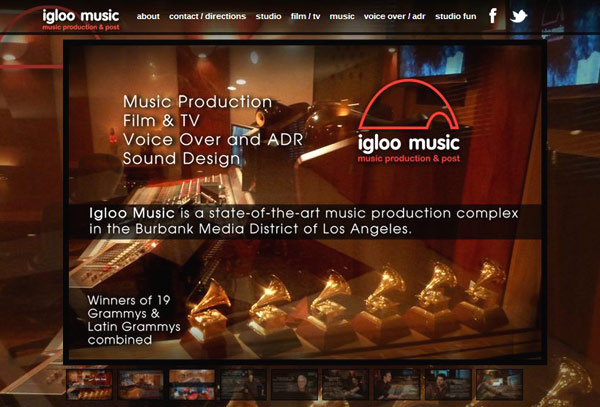 Blog posts are hidden for now, but I hope one day there will be music and sound perspectives on the site. Igloo's staff are world-class engineers, specialists in the art and science of sound. I'm fascinated by all the hi-tech mojo that they make at Igloo Studios, chillin' in the Burbank Media District of L.A.
Update Jan 2019: Igloo Music Studio's website was recently updated with a Squarespace theme by a member of their staff. Happy to see some of my copy edits are still there. So it's goodbye to one of my fave projects. But one of these days I hope to return and record music there again.
Save