My background is in live performance and music, mostly in the art gallery & club scene in New Orleans. My day job was as sound recordist and audio PA on my brother Mike Murphy's productions. I enjoyed collaborating on a couple of  mini-documentaries about the people and music of the  New Orleans Jazz & Heritage Festival.
Production work funded a series of experimental videos with Marta, author, photographer, and partner in Spooky Films. We enjoyed many over-night editing sessions at NOVAC on Magazine St. Three years in a row we showed our latest releases at the New Orleans Film Festival. Won awards and a culty following for our surreal videos. Cable television carried a couple of our videos, one a Christmas daytime drinkers story that aired annually. Tickled us that our Pixelvision doppelganger vid Loose Among The Ruins played on cable in Louisiana and led to concerned phone calls to cable operators.
In my bravest phase, I was a working actor in TV, film and industrials. My first immersion in theater was in New Orleans '88 to '91 as a member of the Actor's Lab founded by Ivan Uttal, formerly Strasberg's assistant at the NY Actors Studio. Ivan guided us through the fog to discover magic in the words. Our playground was a 30's era spacious warehouse with high woodbeam ceilings and tall windows. We bared our souls and learned how to be real with our scene partners.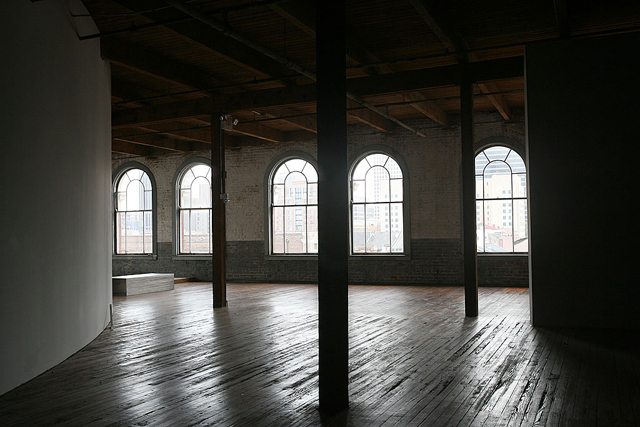 So a bunch of chapters later, I'm in Los Angeles, writing and producing multimedia. Left the acting in New Orleans. Music has returned as a near obsession, and the world is starting to respond again.
—————————–
Marta and I provided art services (photography, posters, signs) through the first and only season of ACTION, a TV comedy series about Peter Dragon (Jay Mohr), a Hollywood producer trying to recover from his last box-office failure.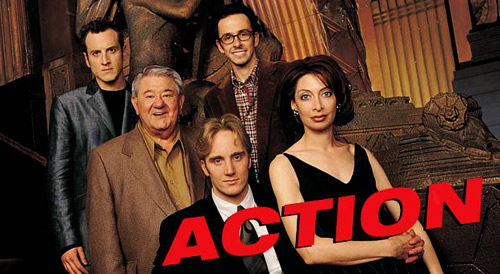 The series was critically praised for its irreverent caustic humor aimed at Hollywood culture. It aired on Fox during the 1999-2000 season. Produced by Christopher Thompson Productions, Columbia TriStar Television, Silver Pictures Television.
In 2000, ACTION Won Golden Satellite Awards: Best Television Series, Comedy or Musical, Best Performance by an Actor in a Series, Comedy or Musical – Jay Mohr, Illeana Douglas
As of 2012, the ACTION series is in reruns on IFC, the Independent Film Channel.
—————————–
Producer Chris Thompson was delighted with our logo for the show and it was printed on every episode's script. Note the CT initials in the crosshairs. The logo made its way onto production jackets, caps and directors' chairs.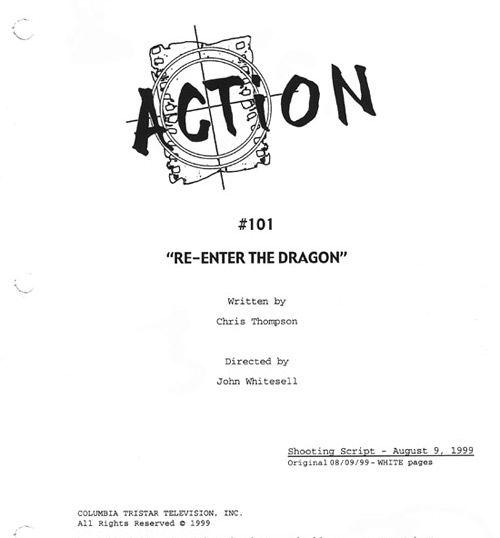 The production office would send us the scripts, and we'd sketch up concepts (pencil on sketch pad) and pitch visual gags. Producers, directors and designers appreciate hand-drawn ideas.
Marta's photography catalog was an invaluable resource. Wacked comedic ideas were the requirement. We felt welcome in the club of crazies.
Peter Dragon's movies were exploitative and in questionable taste, but he made a lot of money with them. One of our early assignments was to come up with several DragonFire Films titles and deliver a set of posters for Peter's office.
I chuckled when an episode opened with a close-up of DEADLY HABITS, a title inspired by one of Marta's Mardi Gras photos. See more photography from Marta's Carnival Dreams book.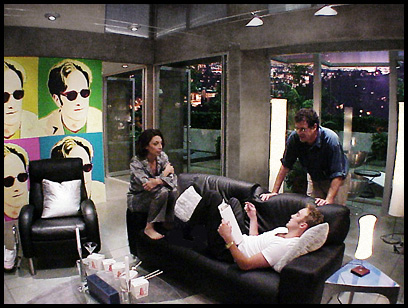 For Peter's modern house in the Hollywood Hills, we created a wall-size Warhol-type painting of Mr. Dragon in sunglasses. This travesty of art was to be the only spot of bright color in the room. When scenes were shot, the colors made the background look like a comic book, with Peter in shades looking over shoulders.
We could count on ACTION's writing team for demented situations. When the unrepentant Peter Dragon got in hot water for one of his ill-conceived deeds, his PR consultant set up a couple of bogus charity media campaigns. Peter's Screenwriter's Youth Camp was a press event with a large banner promising to replace guns with typewriters.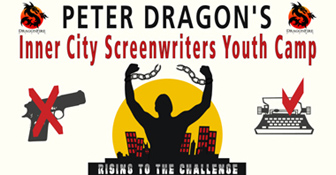 The campaign was an effort to say that Peter is really a good guy, but it's an obvious PR ploy. To make sure that you can see that it's a cheap effort, we made use of free font symbols.
Too bad ACTION only lasted one season but it appears to have a cult following in Hollywood. Watch out, it's addictive.
—————————–
My friend Van, whose mug is seen below, showed up a while back with a two scripts, one for a short film which is the set-up for the feature length.
RELEASED – film by Van Neal

I gave Van some tracks for his supernatural short film… a mood piece about memory. The DIY spirit is alive in development of ideas and concepts. I'm down with a story about a struggle with identity. Are you really who they say you are?

——————-

I look forward to the next project with Van and his co-producer Tida. I did the poster too.
See the opening sequence.
Leave a Reply
You must be logged in to post a comment.